Navigating your financial wellness through the COVID-19 crisis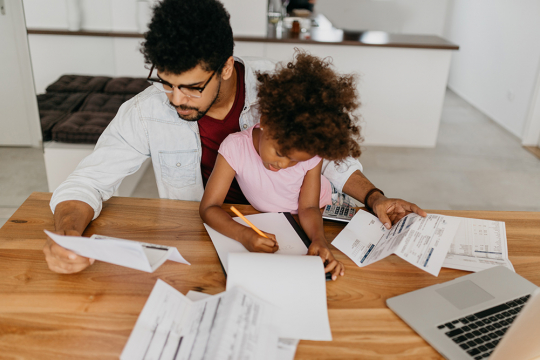 Financial emergencies can happen at any time. Whether it's a job loss, unexpected medical expenses or an emergency home repair, the sudden change in your financial situation can be incredibly stressful. 
You may be among thousands of New Brunswickers whose financial health is impacted by COVID-19. Whatever the cause, financial emergencies can leave you feeling helpless and concerned for you and your family.
While the federal government has put financial programs in place to help Canadians, the uncertainty caused by the pandemic may cause many New Brunswickers to feel financially nervous. Here are some steps you can take to better manage your financial wellness during this crisis.
Review government financial and economic measures 
The Government of Canada has put in place measures to help Canadians manage their finances during the pandemic. Please review the COVID-19 Economic Response Plan to see if you qualify for any of the supports being provided and check back often as new measures are continually being introduced. You can find information on Employment Insurance here and the Canada Emergency Response Benefit (CERB) here.
Call your creditors
If you're having trouble making your payments or expect challenges in keeping up with your regular payments, contact your creditors. 
Your financial institution may be able to help if you're facing short-term financial problems. Some have announced measures offering relief on certain credit products. Others might be open to waive fees or delay payments. Visit your financial institution's website to review your options. You can find information on mortgage deferrals and options you may wish to consider when your referral period ends here.
Also call your utility providers. Saint John Energy and NB Power have both announced they will provide payment flexibility during the crisis.
Some insurance companies are offering relief to consumers during the pandemic. The Insurance Bureau of Canada announced on April 8 its member companies were offering reductions in auto insurance premiums to consumers whose driving habits have changed significantly because of COVID-19. Additionally, insurers are offering flexible payment options for consumers facing financial hardship because of the pandemic. 
Learn more about managing your credit.
If you owe money to a company and are not paying or are unable to make the minimum payments, the company may hand the debt over to a collection agency. When this happens, a creditor has the right to collect on a debt that is owed to them, and the consumer has the right to be treated reasonably and with respect. Visit the Collection Agencies page to understand your rights and what a collection agency is allowed and not allowed to do.
What is a licensed insolvency trustee?
Review your expenses
For many, building a budget and tracking spending can be a challenge in the best of times. During a crisis, like the pandemic, the challenge becomes even harder. But given the financial disruptions caused by COVID-19, it may be a good time to look at your day-to-day spending. 
If you are experiencing a reduction in income, look at your monthly expenses to see where you can reduce costs. Having a budget to track your income (money coming in) versus your expenses (money going out) can help. Learn more about budgeting and find our budget worksheet here.
If you are still receiving a pay cheque, be prepared in case you get sick, need to care for someone else who becomes sick, or if you become part of a layoff due to cutbacks. Consider putting aside money now to create an emergency fund. Some experts suggest putting aside the equivalent of three to six months of your regular expenses. Learn more about saving money.
Avoid more debt
Try to avoid borrowing additional money during this uncertain time. If you must borrow to make ends meet, make sure you understand the financial implications of your decision. 
Before taking out a payday loan, consider alternatives. Payday loans are short-term loans for a relatively small amount of money at a very high interest rate. They're an extremely expensive way to borrow money. Taking out a payday loan when you are in a financially difficult situation increases your risk of not being in a position to pay it back and falling into a debt trap. 
Learn more about payday loans and alternatives.
Be aware that using the services of an online payday loan company that isn't licensed to operate in New Brunswick puts you at a greater risk for harm. Using licensed lenders provides you with some added legal protections from predatory lending practices, such as interest rate caps, disclosure requirements and cancellation options. 
Learn about the risks of using unlicensed online payday lenders
Avoid online lenders targeting New Brunswickers to offer them fraudulent loans. While many online lending options may be legitimate, there is also a rise of scam artists offering fake loans to unsuspecting consumers.
Seek help
Getting advice from a financial professional may be a good idea. Professionals offer a broad range of products and services. Before deciding who to work with, be sure they are qualified to provide you with the services and products you need. 
See what you should know before working with a financial professional.
Before enlisting a debt settlement company to negotiate with your creditors, understand both your consumer rights and the impact any negotiation or settlement could have on your credit score. Consider other ways you could pay off your debts, such as negotiating a repayment plan with your creditors on your own.
What to consider before you sign a contract with a debt settlement agency.
Don't act on emotions when it comes to your investments
When stock markets experience massive swings, it's natural to feel concerned about your investments and retirement. But it's important to keep your emotions in check and not rush to make any sudden money decisions. Emotional situations can lead to poor financial decisions. Talk with a registered securities industry professional before making any changes to your portfolio. 
If you decide to work with a securities industry professional, choosing the right one may be one of the most important financial decisions you make. Generally, anyone in the business of trading in securities or derivatives, offering investment advice or acting as an investment fund manager in New Brunswick must be registered with FCNB. Checking an individual's or firm's registration category or licensing status helps protect investors. 
Be aware of COVID-19 scams
Always protect yourself from financial fraud. As with any major event, fraudsters and scammers have found ways to exploit the COVID-19 pandemic. Monitor for the red flags of fraud, which remain consistent regardless of the fraud or scam. Ask questions and think seriously before making financial or purchasing decisions. Find out about current reported scams related to COVID-19.
You're not alone
Even with social distancing, remember New Brunswickers are all in this together. If you are feeling anxious about your finances, know that you're not alone. Talking with others about your money situation can help. Hopefully, we've given you some ideas to consider during this time.