Is that crypto trading platform legit?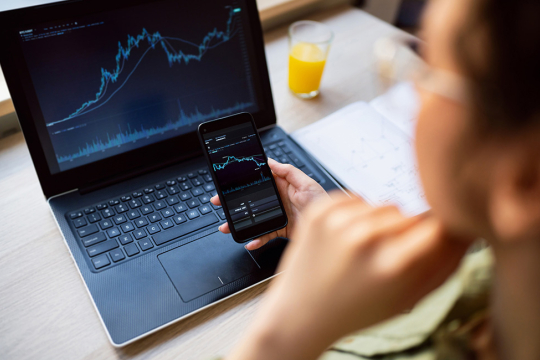 You may have heard about the risks associated with buying crypto - it's a highly volatile and speculative asset. However, if you've evaluated the risks and are comfortable with them, you might still be considering it. Maybe a friend or family member has even mentioned a promising opportunity that seems too good to pass up (cue the red flag!).
If you've been approached with a crypto opportunity or are interested in owning crypto and have been searching for an online crypto trading platform to use, it's crucial to verify that the platform you're considering has been registered with a Canadian securities regulator. Unfortunately, there are many fraudulent websites that, at first glance, may appear genuine. They may even use celebrity endorsements or create fake review sites, making it challenging to spot the red flags. Scammers are getting more sophisticated and may use phrases like "no investment is without risk", state they do not need to be registered, or even claim to be registered with a (possibly fictitious) regulatory agency to deceive and appear legitimate. FCNB is the only place that can regulate crypto trading platforms in New Brunswick.  There are no other authorized provincial regulators, so be wary of any other entities or organizations that appear to be regulating or have authorized a crypto trading platform.
If I decide to buy crypto, how should I proceed? 
If, despite the risks, you wish to buy and sell crypto assets, it's important to use a crypto trading platform registered with a Canadian securities regulator.  Registration ensures crypto trading platforms follow certain requirements put in place to help safeguard investor's assets and protect investors from fraud.  
The best way to know if a crypto trading platform is registered in New Brunswick is by checking FCNB's Registered Crypto Asset Trading Platforms page. FCNB keeps a list of all platforms officially registered with a Canadian securities regulator and shows a list of banned platforms.  
Do all crypto sites need to be registered?
Any crypto trading platform that operates in Canada, including New Brunswick, must be registered to legally offer products and services to Canadian investors.  However, scammers might try to mislead you by claiming that a crypto trading platform doesn't require registration, falsely claim they're in the process of getting registered, or claim to be authorized or affiliated with regulatory or dispute resolution organizations that are not recognized by the Canadian Securities Administrators (CSA). 
If a crypto trading platform doesn't appear on FCNB's Registered Crypto Asset Trading Platform webpage, contact FCNB. Provincial regulators maintain a list of all registered companies or those in the process of gaining registration.
Here are some other steps you can take to verify the website and protect your money:
Search for investor alerts: Canadian regulators issue alerts for fraudulent platforms that are active online.
Examine the website domain name closely: A domain name is a unique name that identifies a website on the internet (Beware: If a domain name is registered, it does not mean it's passed other regulations or registration requirements related to its products and services, only that its name is registered on the internet.) You can use a WhoIs lookup tool to see if a website domain name is registered. If the domain name registration details seem incomplete or inaccurate, it could be a sign that the website is not legitimate.
Conduct a reverse image search on team member photos: Scam sites often use readily available stock images or pictures of real people who have no affiliation with their company.
Copy and paste snippets of homepage text into search engines: This can help identify duplicate content. Scam artists sometimes replicate existing websites to create fake ones.
Research the company behind the website: Explore social media platforms, blogs, and online forums for reviews and discussions about the platform. This will help you assess if there are any signs of fraudulent activities associated with the website. Remember that even blog posts and reviews can be fake as well so check multiple sources before making any final decisions.
Before you buy a crypto asset, make sure you know the risks and understand the product you are buying and the platforms you are using. Protecting yourself from scams is essential in the world of crypto. Learn more about crypto assets and cryptocurrency.  
 
Check our list of Registered Crypto Asset Trading Platforms