Becoming a Master of Spotting Fraud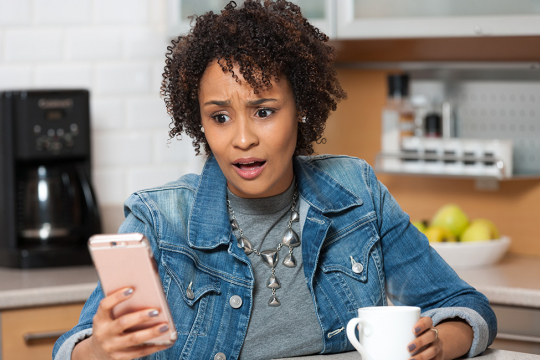 We hear a lot nowadays about fraud; how it can find you online, over the phone, through text messages, social media and even at your doorstep. Although frauds and scams evolve and change, common warning signs stay the same. Knowing how to spot a scam can give you the confidence to say no when approached by a fraudster.
Five common ways scam artists work:
1. Scam artists are great actors. They may pretend to be anything from a financial professional to a relative. They might pretend to have common interests to gain your trust. They may even have a nice website or a professional office. Don't judge a book by its cover.  Scam artists will do and say anything to trick you into handing over your savings. Take the time to investigate who you are dealing with before you part with your money. 
2. Scam artists play to your fears. Scam artists can bring out our worst traits -- greed, fear and insecurity – using emotions to distract you from thinking critically about their offer. Scammers may play on your fears of "missing out," or fears about leaving your family with debt after you're gone. They may try to scare you into believing your computer is about to be hacked, your loved ones are in trouble or your identity is about to be stolen. They may even claim they are from a government agency to get money or personal information from you and threaten you with jail time or deportation. 
3. Scam artists use social media and dating websites. They lure people into all sorts of financial scams, from investing on crypto asset trading platforms to getting people to pay for travel and other expenses to continue their "budding" relationships.  Scam artists are your new best friend − until they get their hands on your money. Then it gets harder and harder to get in touch with them. If you try to get your money back, they'll have all kinds of excuses as to why you can't or why you should re-invest with them instead. Once they've gotten as much money from you as they can, they'll stop answering your calls or emails altogether. If you feel yourself having an emotional reaction (fear, excitement, heart racing), then you should stop and think about what they're offering or claiming. Trust your instincts and contact someone who can verify the information.
4. Scam artists focus on the big score. Scam artists are great at making everything sound like a jackpot. They're trying to get you to act quickly before you miss out. Trust your instinct and walk away if you hear claims like these: 
Your return is guaranteed. 
I just got a hot tip.
Earn big working from home. 
It's so easy to make big money. 
5.  Scam artists pressure you to act fast. Scam artists want your money, and they want it now. They know if you don't say YES right away, you will probably not fall for their scam. They do a lot of fast talking so you won't ask questions. They think if you're listening to them, you won't hear your inner voice screaming "IT'S A SCAM!" If you say you want to think it over, they will tell you the deal won't be available for much longer.
Additional Ways to Protect Yourself
In order for someone to be in the business of selling or providing investment advice, they must be registered with FCNB. In order to sell insurance, the salesperson and insurance firm must be licenced with FCNB. Checking licensing and registration is a simple first step you can take to protect yourself.
If you have any concerns or suspicions about any of the financial industries that we regulate, contact us or submit a complaint. 
It is important to carefully read any contract before signing to make sure you understand your rights and responsibilities. Be especially cautious if the salesperson doesn't want to talk about costs, downsides, or risks. If you have questions about the contract, don't be afraid to seek professional advice. 
Knowing some of the common ways scam artists may try to steal your money helps you build your skills in recognizing and avoiding frauds and scams. It also gives you the confidence to say no when feeling pressured into a financial situation that doesn't feel right. 
Learn more about the common frauds and scams targeting New Brunswickers by searching our Frauds and Scams database.