What you need to know about ride sharing in New Brunswick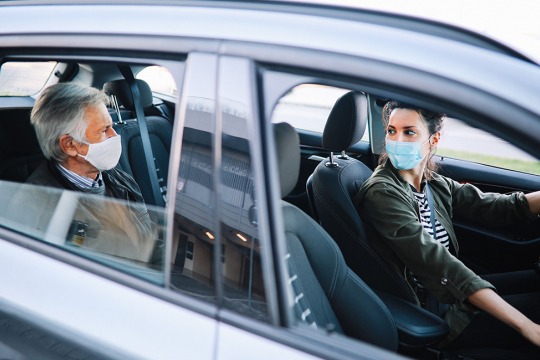 Ride sharing has become very popular in many North American cities. The New Brunswick government made changes to the Motor Vehicle Act to pave the way for ride sharing in the Province. To protect drivers, passengers and others who participate in ride sharing, the Superintendent of Insurance has approved the N.B.P.F. No. 9, a standard Transportation Network Services Automobile insurance policy (TNC Policy) that must be purchased by Transportation Network Companies (TNCs). 
What is ride sharing?
Ride sharing is an arrangement in which a passenger or a group of passengers travel in a private vehicle, driven by its owner for a fee.  
How does it work?
A TNC connects passengers with TNC drivers to provide pre-arranged transportation services for a fee, exclusively through a transportation network (for example, an app on a smartphone or other device).
New Brunswick's standard TNC insurance policy applies when a driver is using their vehicle as a TNC automobile during one of the following:
Period 1: When the driver is logged into a TNC network waiting to accept ride requests from passenger(s) but has not accepted a request.
Period 2: When the driver has accepted a ride request through a TNC network and is en route to pick up the passenger(s) until the passenger enters the vehicle or the ride request is cancelled.
Period 3: From the time the driver has a passenger(s) in the vehicle until the last passenger exits the vehicle.
What should drivers and passengers know before participating in ride sharing? 
If you are a TNC Driver
If you are considering using your vehicle as a TNC automobile, you should discuss this with your automobile insurance broker, agent or company before you start. If you decide to use your vehicle as a TNC automobile, you must notify your own insurer. Your automobile insurance policy excludes coverage if you are carrying passengers for compensation, unless your insurer expressly permits you to do so. 
If you drive for a TNC, your insurer may choose to:
cancel your insurance policy because of an increased risk of a loss; or
continue to insure you but may charge an additional premium because of the increased risk. 
If your insurer chooses to continue to insure you, they may add an endorsement to your insurance policy which provides restricted permission for you to drive for a TNC.  The Superintendent of Insurance has approved the endorsement N.B.E.F. No. 1-45 for this purpose. 
You should ensure that the TNC you will drive for has purchased a TNC Policy. The TNC should provide you with a TNC Insurance Information Form, which provides proof of the TNC Policy. The Form also allows you to provide proof of insurance to passengers. The TNC Insurance Information Form is not designed to replace your own proof of insurance (your pink card). 
If the TNC you drive for has purchased the TNC Policy, you are only covered for periods when you are using your vehicle as a TNC automobile as described above. For Period 1, the TNC Policy will only provide coverage if your insurer denies coverage.  
You are only covered for Section C (physical damage to your vehicle) in Periods 2 and 3 if:
the TNC purchased this optional coverage; and 
you purchased Section C coverage on your own policy.
You are not covered while:
carrying street-hailed passengers 
taking passengers on a sightseeing tour
transporting certain kinds of cargo. 
If you are a ride sharing passenger
Although New Brunswick has approved a standard TNC insurance policy, this does not mean a TNC has purchased the policy. Before using a ride share service, you should make sure the TNC and its drivers have appropriate insurance. You should ask the driver to show you the TNC Insurance Information Form. An insurance company that issues a TNC Policy must ensure that a TNC Insurance Information Form is provided to all drivers. In some municipalities, a TNC and their driver may be required to provide proof of appropriate automobile insurance to be licensed to operate in the municipality. 
If you want to review the TNC Policy, you can check the TNC's website. The TNC is expected to post a copy of its TNC Policy on its website. You could also ask to view the TNC's insurance policy via the driver's smartphone application. The TNC may provide a copy of its policy to its drivers through the driver's smartphone application.
The TNC Policy only provides insurance coverage for rides booked electronically using the TNC's app. It does not provide insurance coverage when passengers street-hail a ride. 
Information for TNCs
The Superintendent of Insurance expects any TNC will make a copy of the TNC Policy available on its website for viewing by TNC drivers and the general public.
TNCs must ensure that their drivers have a copy of the TNC Insurance Information Form.
TNCs should advise TNC drivers of the coverage limitations under the TNC Policy. 
Given the unique nature of the TNC Policy, the Superintendent of Insurance expects TNCs and their insurer to cooperate with other insurers in claims coverage investigations and to facilitate the exchange of information, including dates, times and circumstances of an accident involving a TNC driver and the times that the TNC driver was logged in and logged out of the TNC network.
This guide is for educational and informational purposes only. FCNB does not provide legal or other professional advice or endorse any product or services.
While FCNB considers the information provided to be reliable at the time of posting, FCNB does not represent or warrant that it is complete, timely or accurate. FCNB is not responsible for any damages however caused, which result from the use of this guide.