New Brunswickers are being targeted by fraudulent Google ads that appear to promote the PayPal customer service line. The phone number in the ad directs callers to a scam artist who tries to gain access to their PayPal account.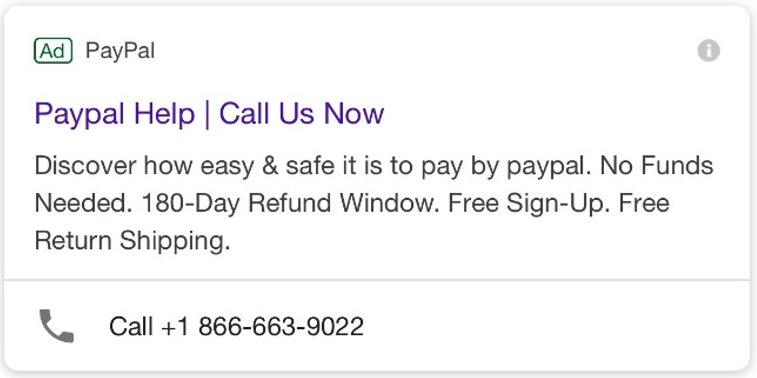 How to recognize the PayPal Ad Scam:
The phone number on the Google ad does not match the phone number on the actual PayPal website. (Red flag: inconsistent contact methods.)
The customer service rep asks you to purchase a Google Play or iTunes gift card to "secure and link" the correct credit card to their PayPal account. (Red flag: unusual payment methods.)
You are rushed into making a decision or giving personal information (Red Flag: pressures you to act fast).
What to do if you see a PayPal Ad Scam:
Do not click on the ad or call the phone number advertised. Instead, find the number directly from the PayPal website for assistance.
Where to report the PayPal Ad Scam:
Report the scam to PayPal and to the Canadian Anti-Fraud Centre.
Learn more about how to report fraud and where to report fraud. Sign up to receive fraud alerts delivered to your inbox.